How-To: Server Transferring
Server Transfers are used for when you want to move your active character from one server to another. This is used to RP out travelling to another island via either air, sea or obelisk portal. 
When transferring ONLY your current played character and anything on their person moves server. Any dinosaurs or such must use the upload/download process detailed later in this thread.
In order to transfer your character you need to visit an obelisk or obelisk terminal. Once there activate it and click the "Travel to another ark!" button in the very top right corner: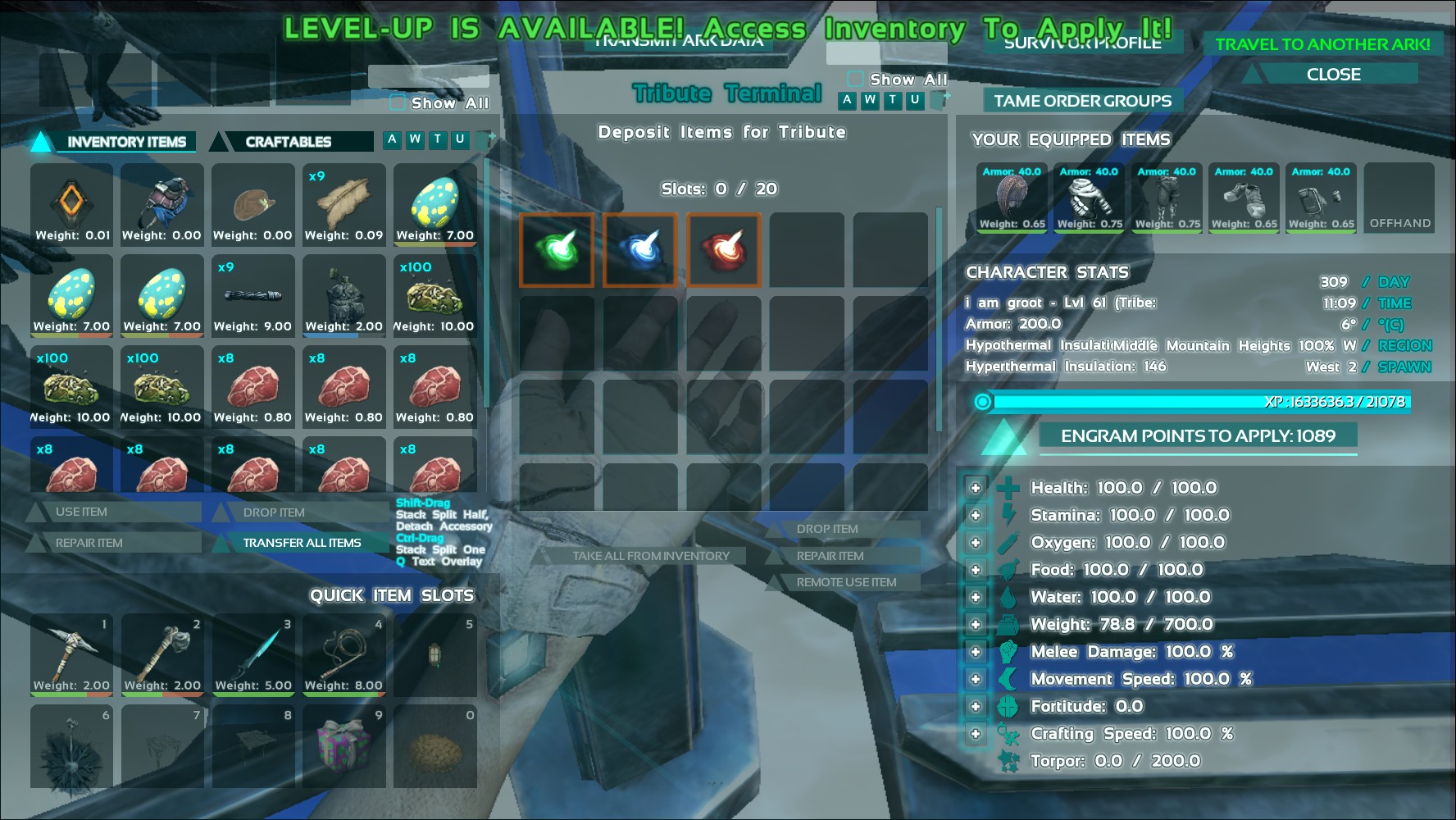 This will bring up a server browser which shows any clustered servers. If you cannot see our other server try ticking the "show passworded servers" box, then unticking it. Also try refreshing a few times, it sometimes doesn't show up instantly.
Once you can select the server, choose it then click the "Join W/Survivor" button where the join button usually is. You will instantly start loading into the other server and once finished be given a respawn screen as if you had died. Simply pick your spawn location and your character will appear with the same inventory as before transferring.
Please be warned however that this system is not perfect and sometimes items on your person may disappear. Also note that sometimes you may get only a "view engrams" option instead of learn engrams, to fix this simply relog.
How-To: Upload & Download
Uploads & downloads are sued for transferring dinos, transferring items, and storing alternate characters. These are used to RP transporting creatures between islands, sending items to other islands, and to play secondary characters respectively. 
Uploading/Downloading Creatures
In order to move a creature from one server to another you must use the following process:
Bring the creature you wish to move server to an obelisk or obelisk terminal. They must close to said terminal else it will not "see" them. 


Remove any saddle or items within the creatures inventory, they do not transfer over.


Open up the inventory of the obelisk terminal and in the top center select "Transmit ARK Data" like so:





Then select "Upload Creatures Data" as shown:





This will now list your creatures nearby, simply select the creature you wish and upload it!


When you want to retrieve the creature you simply do the same process but use "Download Creature Data" instead!

Uploading/Downloading Items
Uploading/Downloading items works in a very similar fashion to creatures. Simply follow the same process but once at the menu with the option "Upload creature, download creature, etc" then simply drag and drop items into the empty space. This will upload and download as you drag and drop. It's really that simple!
Using Storage To Play Secondary Characters
If you wish to player a second character in addition to your current one then uploading characters to the obelisk terminals allows you to have both active on one server if needed.
Please note that if you attempt to download a character without first uploading your current one, the current one WILL be deleted and cannot be retrieved.
To upload a character you must use the same menu as the above options but choose "Upload Survivor Data" instead. This will upload your character, but be warned! anything in your inventory or being warned will NOT be uploaded and instead will drop on the ground.
If you wish to download a character to play then simply choose the "Download Survivor" Option when spawning into a server!
Transferring/Upload & Download When Used With Tribes
When moving a player from one server to another via either of the two methods it is important to understand how tribes & ownership works. Tribes are saved per server which means your player is saved into their tribe on each server separately. This means when first moving your player to a different server you will no longer be in your tribe and your tribe will not exist. To fix this simply recreate the tribe and join it again. Your rank and membership will now be saved on both servers and stay when swapping between them.
This also applies to creatures and ownership, when moving servers they belong to whichever tribe you are in on each server. It is important to note also that they belong to the tribe of the person who downloads them, this should not be used to steal dinos!