A Study Of Magic - By Teril Andor
Magic in its most basic form is a constant in the lives of every person living on our world. Throughout my travels I have seen it called countless names and described in more ways than I care to remember. Some cultures view it as a gift from the gods, some as technology we aren't yet able to explain and even as a force of nature just like a rainstorm or tornado. Regardless, one can surmise that this power comes from the obelisks and is drawn into humans through the gem on their wrist, as it seems to be made of the same material (curiously it seems the beacons that appear around the islands are also made of a similar material). Each person is born with said gem embedded in their wrist and it is a part of us just as much as our heart or brain. It seems to be a symbiotic relationship, as when the gem is removed, or the arm lost permanently, we have noted that the person will sicken and die. (There is a barbaric practice in Ul Dumar where executions are done simply by chopping off an arm and letting the person die slowly. Horrifying, I know.)
Another evidence of magic being present in every human is the magical space that each person seems able to access using the gem as a kind of key, allowing them to carry far more items than their physical frame would allow. It is interesting to note that while a person is conscious, they seem completely in control of this storage space, able to lock it away from the eyes of others. It is only when they are rendered unconscious or dead that their gem may be used by another to open the space.
The final evidence of magic's existence in the everyday lives of the common people is the effect it seems to have on the aging process. Humans do not age naturally. Time passes them by and does not touch them. It is a strange phenomenon, one that we have yet to explain. While newborn animals will grow to full-size with no difficulty, human children will not. The individual must be brought to the obelisk and a ceremony performed to allow the child to grow older. The ceremonies seem to vary drastically, from a simple meditation at the obelisk to a grand and elaborate religious ritual that can take many days. Many have tried to find a way to grow older without using the obelisks, but that seems to be the only set requirement so far as no other way has been found.
There are also what many refer to as 'artifacts' scattered around the world. They seem to be called this because the vast majority of people believe them to be related to the obelisks, some going as far as to say they are pieces of an ancient obelisk, long destroyed and scattered around the world. Whatever your beliefs it is clear that they harness some form of energy similar to the obelisks themselves although much weaker. They have been incredibly frustrating to study however, being both exceedingly rare and extremely difficult to understand or gain any meaning from. In my adventures I have seen people claim that the artifacts can do almost anything - cure illness, give you more energy, give you power, one couple even told me that the artifact they found allowed them to have their son! Sadly none of the evidence points to any of it being true, or even close to the truth. So far the exact effects or uses for these artifacts continues to elude me. Regardless,
SPOILERS
, perhaps they have some ideas on how to unlock their full potential, or perhaps they just want to keep them out of the hands of the locals who seem to always take a shining to these strange objects.
We now come to the more in-depth uses of magic. Seemingly tied to each obelisk, there are three unique types of magic, separate from each other. These create the foundation of magic use in our world and represent the limit of human knowledge as it stands. In order to use one of these magics, one must go to the obelisk that resonates with the type of magic they wish to use and "attune" themselves with it. This can be a private meditation or a public ceremony, but either way, the newly attuned mystic, technomancer, or alchemist now has the ability to begin learning the basics of that magic. To become proficient at it takes years, to master it can take centuries.
It is however possible to switch to a different class of magic once already attuned. One simply goes before a different obelisk and seeks to attune to that one instead. However, this comes at a price. All knowledge and ability in the first type of magic is lost. Some poor fools believe that they can master all three types of magic by constantly switching their attunement, but I have observed this fail over and over, as each time it returns them to the level of the newest novice.
It has been said that the light of the red obelisk flows through every living creature, interwoven with their lifeforce. Mystics are able to gently manipulate this energy in specific ways such as healing and creating a bond between themselves and other creatures. The true limitation for Mysticism seems to be that it will not work on anything that is not alive, it cannot be used on one's self, and it only works with direct phsyical contact.
Many Mystics are adept at healing, whether it is healing animals, plants, or people. Healing magic, from what we have observed, seems to simply speed up the natural healing process, leaving both the Mystic and the wounded drained and exhausted upon completion, sometimes for days. It will not physically manipulate the wounds or regrow limbs, so if an arm is broken, the bone will need to be set before the Mystic begins their work. One other thing to note is that the healing process does not remove the pain of healing. Those who have been healed have been known to state that the process itself was agony, and the wound was still tender for a few hours.
My observations of a healer working their magic on a plant showed some interesting effects. While they are not able to force plant-life to grow beyond what the natural limits are, they are able to help heal and nurture growth to result in healthier and stronger plants and crops as well as tastier and better fruits and vegetables. These people are often in high demand during the colder months or in more harsh climates.
Another ability mystics have is related to the beasts roaming the land, allowing some mystics to form a closer emotional bond with their animals, as well as a vague sense of what the animal is feeling or wants. This has been looked down upon by many, as it is only a vague sense and not something clearer like words or pictures. Mystics using this aspect have also been known to sense their bonded animals presences when nearby, even through walls or other structures.
One final aspect does exist, and this is the one many Mystics themselves look down upon. One can witness that at the moment of death, the life energy of a creature or plant is released, offering a burst of energy that can be accessed by a Mystic. This energy only lasts a few moments before dissipating, but some Mystics have turned to sacrificing the more powerful creatures, often named "Alphas" in order to harness and use this energy for their own purposes. They believe this sacrifice will create a stronger attunement to the obelisk, allowing them to lessen the fatigue that effects them after healing, encourage fruit and vegetables growth (and their taste!) as well as aid in the development of gestating creatures resulting in a higher chance of beneficial mutations when born. However this use of Mysticism also comes with its downfalls, wounds heal slower than the true method of healing, the crop batch is smaller and more likely to be diseased and the babies are also occasionally born with more... negative mutations. It is also important to know that this ability does not work on humans, possibly because the gem in the wrist does not allow the energy to be taken, even in death.
The green obelisks' light offers the Art of Alchemy. Alchemy is at once both the simplest and most complicated magic to explain. Simplest because one could reasonable sum it up by stating that Alchemists use the basic ingredients that can be found in the world and combine them together to create various potions and effects. But complicated because to explain how they do this would take a more pages than could even fit in the great library of Jahana.
It is impossible to understand how one ingredient in one potion can have a completely different effect in a different Alchemist's brew. Some Alchemists have even found that it can vary in their own potions, using the same berry in a potion meant to cure and one meant to cause damage. One theory is that the ingredients themselves do not determine the effect, they are simply the physical representatives of the magic being infused into the potion while it is brewing. It is maddening to try and study this magic if one is not attuned to it!
But for those who practice it, the effects of their creations is astonishing. I have witnessed potions that can cause madness and ones that can create clarity, brews that will cause a person to fall in love and others that will create the urge to kill.
The only potions that seems to be out of reach for alchemists is a cure-all potion that will negate the effects of all other potions and any potion that will last indefinitely. If a person who has drunk a potion they did not intend to comes to an Alchemist for help, the Alchemist must create a counter-potion specifically for the potion that was ingested. Likewise, all potions seem to have a set duration, meaning that if one were to use a love potion to catch a husband or wife, they would need to regularly dose their spouse or the effects would fade.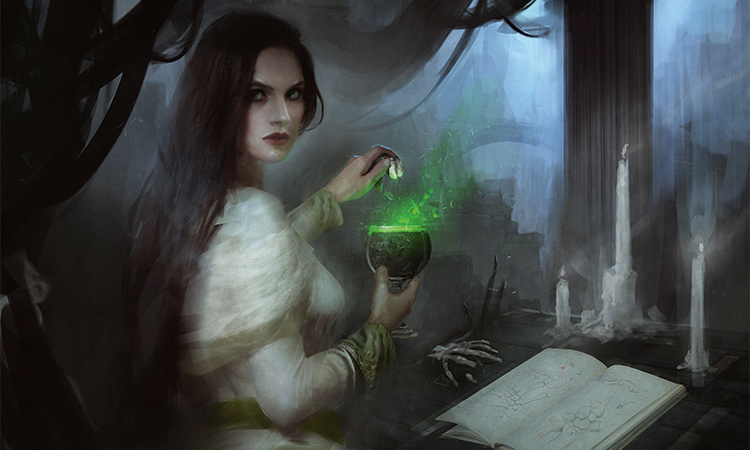 In many ways, Technomancy is the polar opposite of Mysticism, which is also reflected in the blue glow of the obelisk ruling over it. Those following this Path are able to infuse non-living materials with magic, strengthening them.
There was some confusion in my earlier studies of this magic when a Technomancer used their magic to strengthen a wooden door for a customer to make it harder to break through. Wood is a living thing! It is organic! Shouldn't a Mystic be the one to do this? The Technomancer quickly corrected me. While a tree is a living thing, once the tree has been cut down and the energy from its moment of death dissipated, it becomes a non-living object, bringing it into the realm of Technomancy.
Many of the wonders we have in the world are the direct result of Technomancy. The radios we use to speak across such great distances, the
SPOILERS
, many of our more impressive technological discoveries all exist due to our advancing knowledge of harnessing this power. Many technomancers have even expanded into the weapons and armor trades, using their magic to make up for their lack of skill. While many blacksmiths sneer at their creations, it is difficult to tell the difference between a blade crafted by a master smith and a master Technomancer.
One of the limits of technomancy is that it is only able to augment things, not create them. One mad technomancer I spoke to has spent his entire life trying to animate a metal being, using magical energy to bring it to life or to give it some form of intelligence. All his efforts, and those of his master before him and his master before him and so on have failed. Technomancy is not able to bring non-living materials to life.