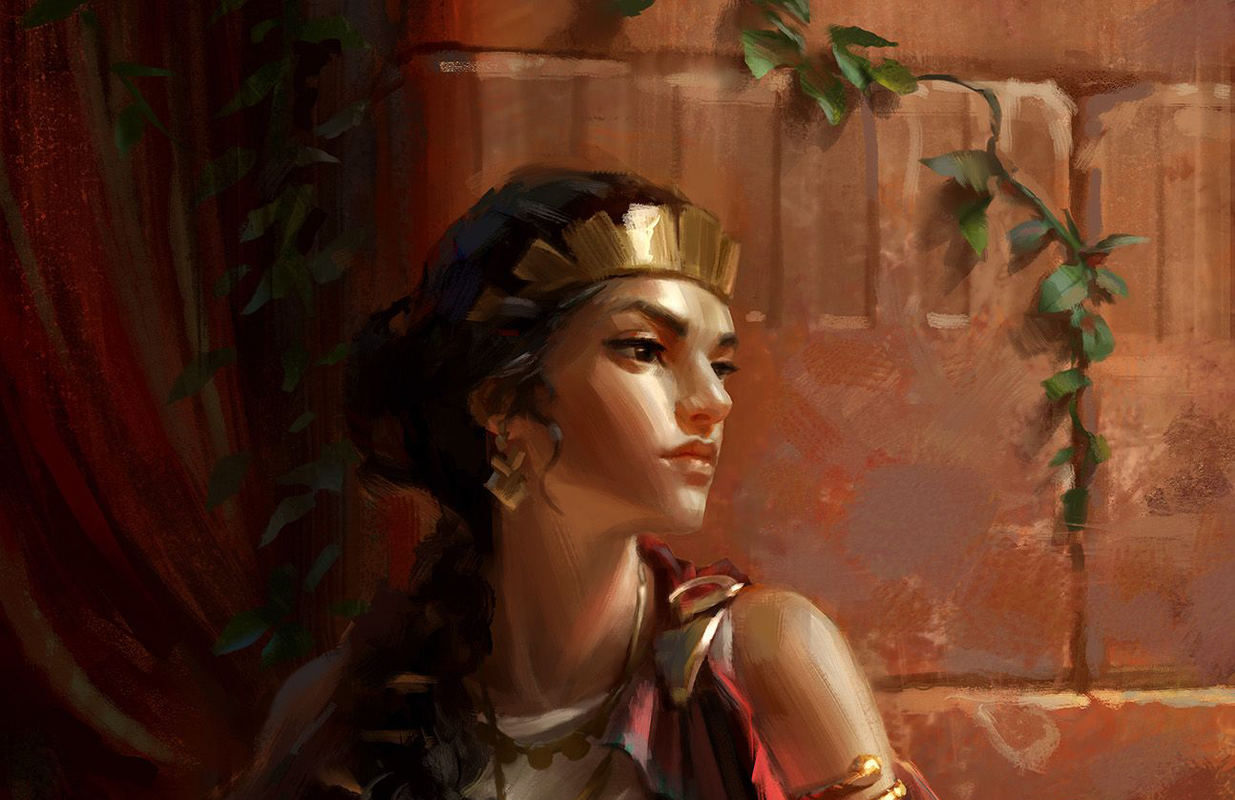 Art by: WildWeasel @ DeviantArt
Kephala Hill, Knossos - 41 BC
"Finnia! Put feet to use and make haste. Have Galen ready the horses. We will leave absent the morning light."
A voice like a military parade. Would make any man and woman alike march. Father never enjoyed the Cretan countryside. "Salted deprivation" is how he described smell. For me, the western winds carried the sea with purpose, beckoning nose towards adventurous end and soothing desolace. Yet the vineyard, sweet. The people, required evil. The horses, truly loyal.. I could never put mind to leaving the villa. Not for long but to roam the plains with Eneas and good Mitholaus by my side, scraping only a taste of the winds and bringing the smell of sea back home, carried by hair and clothes. Only for mother to misplace her perfumed water at the stables and me to find when returning from the ride. She hates the sea, as did grandfather even before storm made life cease.
Dampened hooves clopping, overshadowed by sound of the carriage, stablemaster and son Galen guiding it to the patio. Finnia, mother's handmaiden, firmly holding the horse's reins and rushing herself towards Quintus, impatiently tapping his sandal on the creamy coloured marble below.
"Your will, dominus."
Finnia met him with a humble bow, her brows arched expectantly. Mother approached from behind Quintus, her presence alone invigourating spirit as she raised her arms, bracelets and trinkets jangling, reaching for Quintus' robe at shoulder height.
"Dress proper, husband."
A strong whisper made point.
"..our family matters. Impression must be left with solid footing."
straightening out a crease she tucked the silk under a fold.
Quintus stoically turned his head, simultaneously and firmly grabbing hold of her hand.
"Speak not of politics, Eilene. Do not trouble yourself with such thoughts. Preparations.. have been made to ensure elevation towards position well deserved."
Quintus' gaze lingered towards the balcony and met mine for just long enough to understand meaning. Simple nod sealed the agreement, it was done. Father raised his tunic slightly and headed towards the carriage with raised chin and constant pace, his guard and servants in tow. Galen the stableboy reached out to help him up, but father abruptly slapped away the hand and gesture, helping himself up. Galen gently closed the coach door and accompanied his father on the perch of the carriage, leading the horses out towards the villa gateway.
Drops of morning dew on the balcony railing lit up with the first rays of light bending over the hills ahead. Another day, another adventure. I feel like going out today. Perhaps lead Eneas towards the river, I know how much he loves the damp grass there.. as much as I love the view.